The Cat's Pajamas Cat Sitting

For the Very Best in Cat Care
Cat Sitting in Andover, Anoka,
Coon Rapids*, Oak Grove*, & Ramsey*, MN
763-767-8656
What My Clients are Saying
In the cat world, Christine is the super fun aunt that spoils you rotten whenever she visits!
Christine was quick to establish herself as knowledgeable and "Partial Approved" even with the most difficult of customers. Armed with her (I swear catnip laced) bag, Christine provided comfort in her ability to care for my furry family members via taking thorough notes of all the intricacies of Partial Care all while maintaining great rapport with myself and my cats.
While you are 

away, Christine sends you pictures and videos, which, not surprisingly, brighten your day.
Christine also serves as a mentor, offering suggestions in an appropriate manner on how to tackle problems (such as kitty explorations of countertops) to diet to new toys to try.
While I have had many different sitters, the level of happiness and cheerfulness upon returning home is unique to Christine – they have never been more relaxed and stress-free. I am extremely grateful that I stumbled across her and recommend her to anyone.
Disclaimer: My cats are lovingly called "The Partials" due to their incompleteness. While missing a few parts, they work just fine.
— Kristen W.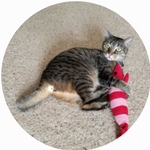 We were lucky enough to find The Cat's Pajamas Cat Sitting last year. Christine takes care of our Max as if he were her own. She engages him with play, belly rubs and head scratches and brushing all the while talking with him! Beyond that, Christine is certified, educated in first aid, and can administer medications. We trust her thoroughly with our Max and our home and highly recommend The Cat's Pajamas Cat Sitting for your kitty. — BJ H.
Christine did a wonderful job with our cats, Jack and Mittens.  She was attentive to their needs and spent quality time every day with them.  She managed our diabetic cat's insulin effectively and frequently texted us pictures and updates on how they were doing during our travels.  Thanks for your loving care Christine! — Kristie H.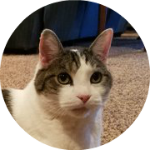 Tike (my 14 pound long-haired lover boy) LOVES Christine and is very well cared for by her when I travel. He hears her voice and runs to greet her. Christine covers all the bases before I leave: vet info, meds, daily eating/playing/grooming. She sends me Tike text photos while I'm on the road, which brighten my day! I am pleased to recommend The Cats Pajamas – Christine is a professional with a big heart that you can trust! — Karen G.
I highly recommend Christine Stutz as a cat sitter. She loves cats and will care for your cat as if it were her own. She not only spent time with my two cats everyday while I was out of town, but also sent me daily updates and pictures. An added bonus was that she brought in my mail and my house was being checked daily! I will definitely use her again!
— Becky U.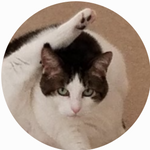 We recently went out of town for 4 days. We hired Christine to look after our furbaby, Oscar. He's a very shy boy and will hide if anyone he doesn't know comes in the house. He will not come out! But, Christine enticed him with toys, a treat and most importantly, gentle words. She had him purring, playing and cuddling and he rolled over to let her rub his tummy!! The best part – he's not scolding me for leaving him!! She truly is The Cat Whisperer! — Gale B.
We recently took a short trip and needed someone to watch our cat CeeCee for several days.  After calling a few other places we were referred to The Cat's Pajamas.   We met with Christine and introduced our standoffish pet to her.  After departure for our trip we received a text from Christine that she had visited the house and CeeCee.  Over the course of our time away we received daily texts and pictures, which we found both amusing and reassuring.  Christine is both knowledgeable and friendly while at the same time takes her pet-sitting responsibilities very seriously and is a true professional. We would highly recommend this cat watching service to anyone looking for a cat sitter. — David and Mary S.
Moonlight was experiencing separation anxiety, so we hired Christine to watch her since we travel several times a year to visit our son. She researched suggestions for us and even stopped by in person to discuss them. Moonlight's separation anxiety is no more since having visits from Christine. — Rhonda L.
The Cat's Pajamas went above and beyond for our three cats. Christine is great. She meets with you beforehand and gets to know your cats and any special needs they have. While we were gone, she sent us updates (including pictures) about how the cats were doing. Christine was very attentive to the cats, giving them plenty of play time and cuddle time. We will definitely use The Cat's Pajamas again, and highly recommend Christine.
— Gretchen C.